10th Anniversary - July 23, 1995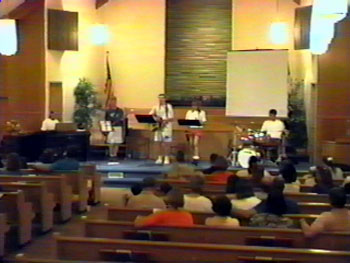 Hi everyone! Welcome to the second edition of the basicmm radio podcast! Last week we were celebrating an anniversary of sorts, and so we thought it would be good to continue in that since 10 years ago this week (can you believe it!?!) was the first official public concert for the group known as "basic" (or Brother and Sister in Christ, then).
So, buckle your seat belts and hang on for a wild ride down nostalgia lane! :-)
The songs included here are:
::
The Road Ahead
- Another Road Trip (1996)
::
One Voice
- Another Road Trip (1996)
Click the iTunes button to go straight to that song in the iTunes Music store and purchase the song for $0.99 or the whole album for $9.99!
We had so much fun digging into the archives for this podcast, that we are even going to post some photos from that day! Now, these are screen captures off of a VHS tape that's 10 years old... but... you'll get the picture...
HA! :-)
Don't forget, you can subscribe to this podcast and receive automatic updates through the new iTunes 4.9 at the following link:
basicmm radio
We also put a little donation button on this page to the right. If you are so inclined, we have made it so that you can easily donate to this cause and others (like our gas tank...) through the magic of PayPal! :-)
Enjoy the podcast, and we'll see you next week!
---
Photos
---